OMRRA racers and Pacific Northwest track day riders – for the 2019 season OMRRA will partner with Optimum Performance Rider Training (OPRT) to offer Friday track days before all OMRRA race weekends at @PIR!   Go to https://optimum-performance.org for early-bird prices through February 28, and registration details.  OPRT will run 4 sessions per hour, with a lap-time limited Fast group, and a Lightweight/Middleweight motorcycle ONLY session in May, July, August and September.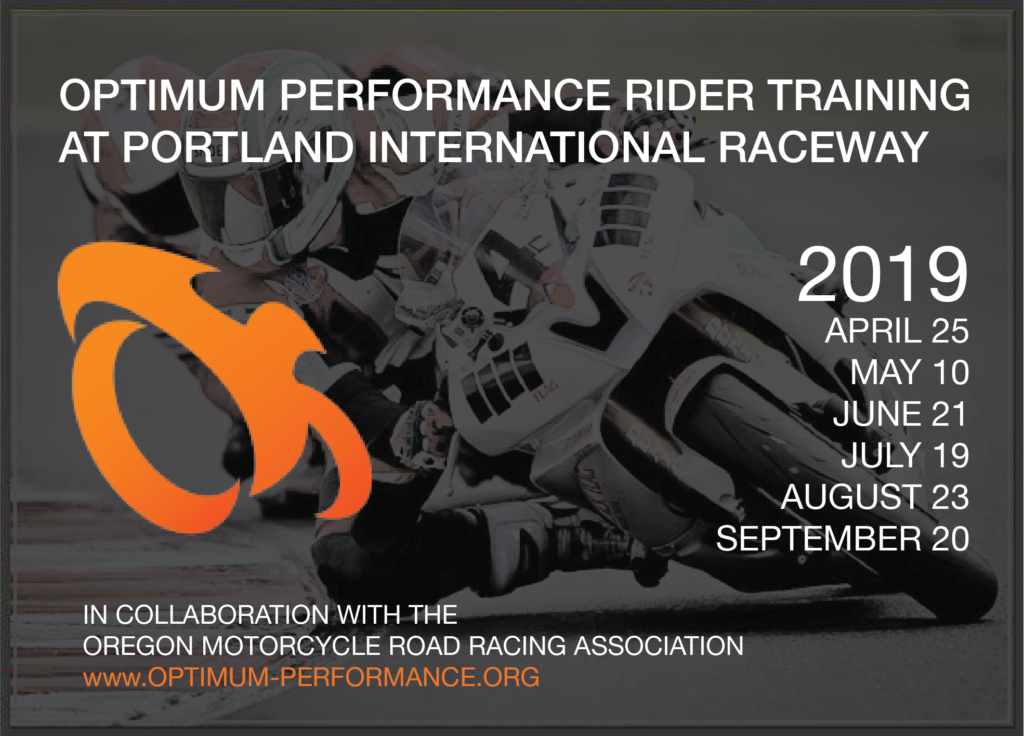 Groups:
OPRT will run four groups each hour, 15 minute sessions.  All track days will have slow, medium and fast groups.  In April and July the fourth group of the hour will be OMRRA New Racer School.  The remaining four dates (May, June, August, September) the fourth group will be Lightweight + Middleweight motorcycles ONLY, including Ninja 250-400, KTM RC390, SV650 and the like, aligned with OMRRA's popular race classes, no 600cc inline-4 cylinder and above.
All groups will be limited to no more than 35 riders.  Lap time limitations will be established and policed, in particular to keep the Fast group Fast-Only, at 1:15 and below.
Pricing:
OMRRA Racers can purchase a season pass as part of their annual race membership for $995, good for the six PIR rounds, available ONLY until January 31.  Season passes are full-season, non-refundable and non-transferrable, but do give you $165/day pricing and secure your spot in the Fast group (or other if you choose).   ALL other track day purchases are done through Optimum Performance.
https://optimum-performance.org is where any rider, OMRRA or not, can go for track day purchases.  Through February 28, single day passes are $179, and PIR season passes are $995.   From March 1st on, the daily price is $199, and season pass availability will close.  No ½ day or ½ season options available.
Rider Training:
OPRT offers a limited number of highly focused new rider instruction slots in their slow group for an additional $50.  Instructor ratio is 1:1 or 2:1.  The next generation of safer street riders and OMRRA racers both start with excellent track day instruction (this is OPRT instruction for riders new to the track, not OMRRA Novice School).
Other OMRRA-friendly and aligned details:
The OMRRA Air Fence crew will be hard at work, setting up protective barriers to the same standard as our race weekends – a factor of safety not available at other PIR motorcycle track days.
Fridays before OMRRA chicane weekends the Slow and Middleweight groups will run the chicane, while the Medium and Fast groups will not – following our race approach.  The chicane adds an extra 3 turns to the normal PIR layout.
See you at the track in 2019 on Fridays!